School Uniform Highlights
Students are expected to be in full uniform everyday and must arrive and depart from school in uniform – Let's start each day on the right foot!
Please ensure that the uniform is clean and free from stains – When we look good, we feel good.
The student's name should be written on all uniform items in case of loss – We build respect, not just for each other, but for our things and our environment.
We recommend having more than one of key items, like polos and dress shirts – Easier on the laundry and makes sure items do not become worn out.
Students are required to wear full uniform on field trips, unless otherwise stated. – Representing our school also adds to student safety.
Any non-uniform clothing items are not permitted while at school. This includes items such as sweaters, pullovers, etc. – Our aim is to build fairness and cultivate a professional environment.
Students may be asked to leave class and/or return home if not in compliance with the uniform policies and guidelines
All students have the option of not wearing the uniform on non-formal days. However, on those days they must wear professional business attire – Think: what you would wear at a law firm or to a job interview.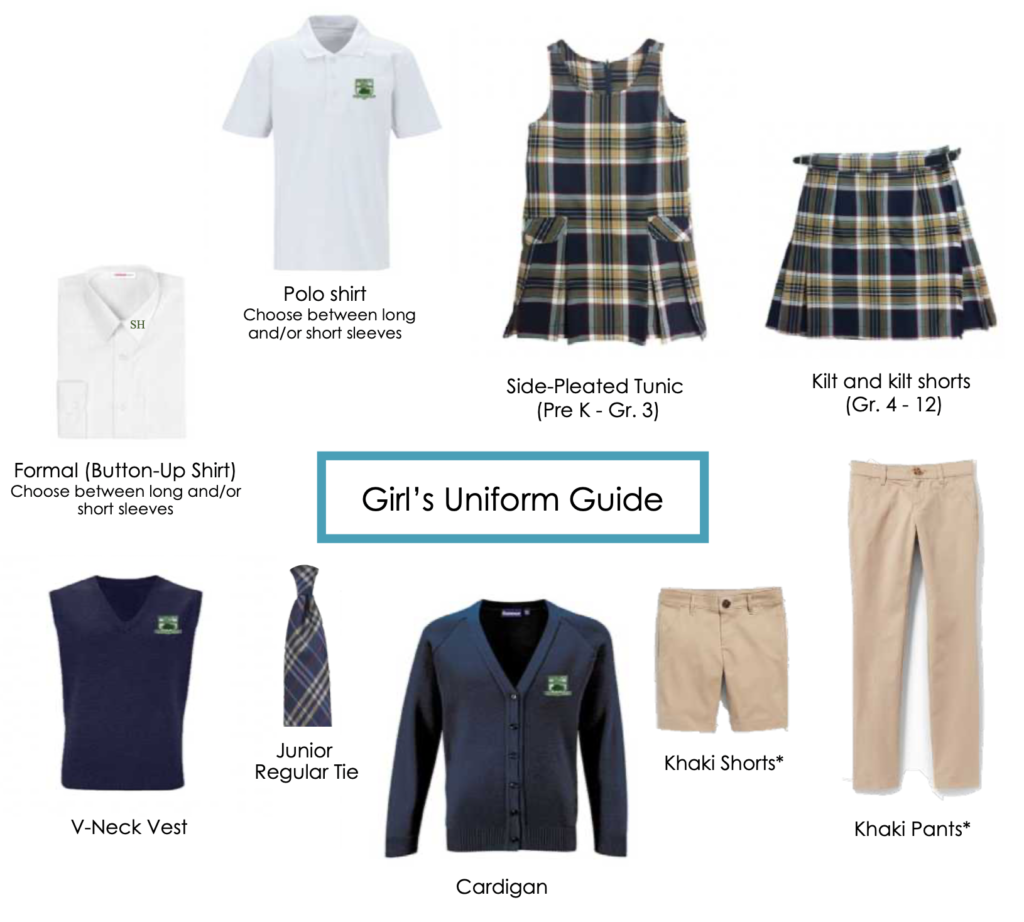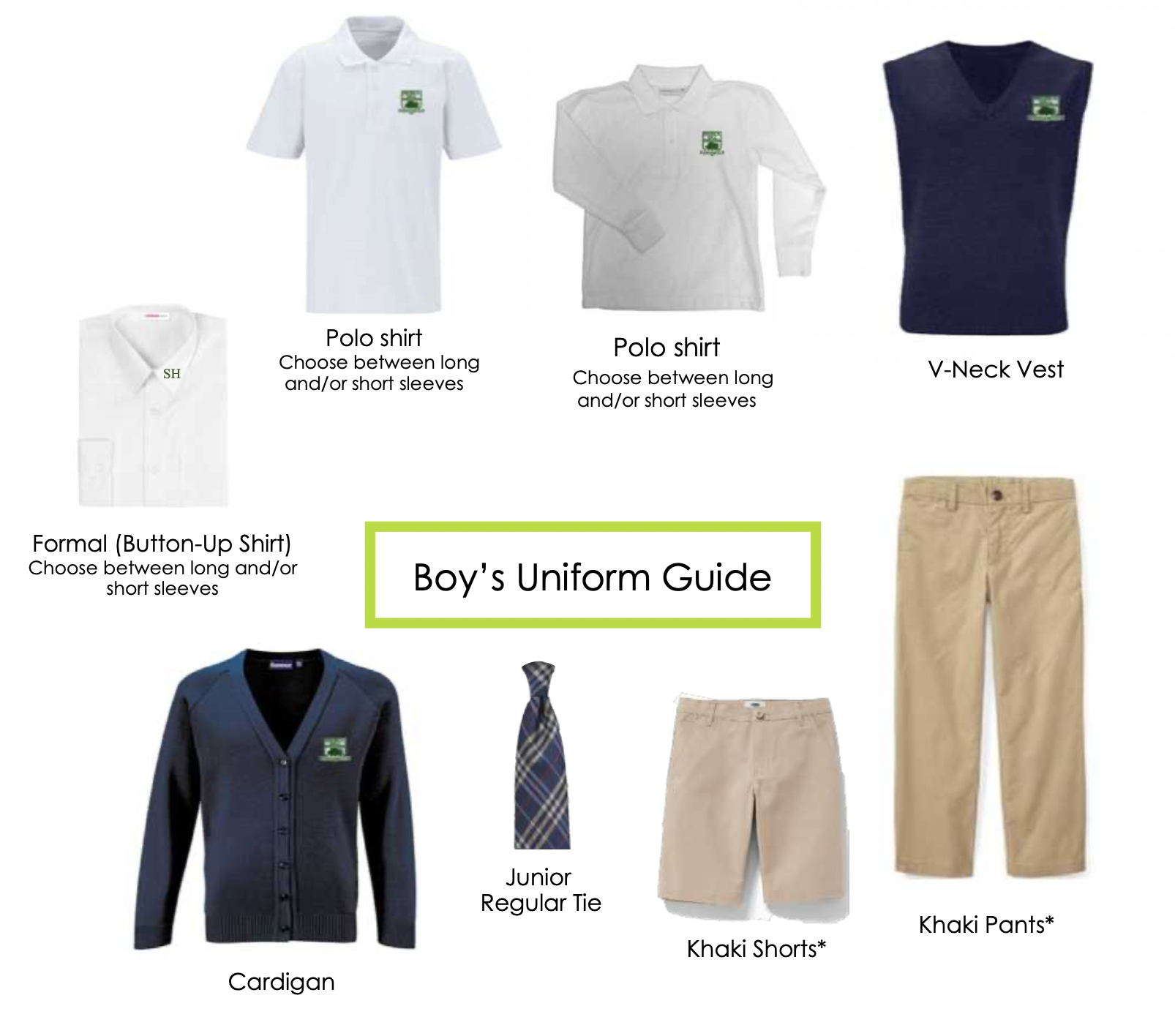 Indoor Shoes:
Students can wear whatever type shoes that make them feel fabulous (seriously!). They should be comfortable and safe for moving around the school. (That means no fuzzy bunny slippers … unless they are too fabulous to do without.)
Outdoor Shoes:

Students must have shoes suited for the season and weather.
For example: Winter boots in the colder months.
(No fuzzy bunny slippers here, please.)
*Parents have the option of purchasing khaki pants or shorts from a local clothing store instead of InSchoolWear. We want to allow some choice here in styles, Khaki pants should be the traditional khaki material and not made of nylon or polyester. They should be the traditional colour and not be too brown or yellow in colour. Old Navy and The Gap are common places where parents purchase khaki pants for their children. If in doubt, please don't hesitate to ask!
Say Yes to the Uniform - Style Tips & Guidelines
 All shirts must either be tucked in (button-down) or rest on the waist (polos)
Only Seneca Hill logo shirts and polos are permitted
Undershirts must be white
All pants must be worn at or above the waist
Girls wearing the kilt must be worn no higher than 5 to 10 cm above the knee and be suitable for the learning environment
The tie must be done up to cover the top button
A belt should be worn and be a solid dark colour with no markings or logos.
No hats are to be worn inside the school building at any time.
Professional appearance is expected and promoted.
On days your child has Physical Education, students are allowed to come to school dressed in gym uniform.
Casual Days
Casual days are meant to be fun and a chance for students to be creative and unique with their style.

Students are typically granted every second Friday as a casual day (this is published in the Dates to Remember on Edsby.)

When wearing casual clothes, we want you to be able to express yourself as you see fit. We value that. However, we ask that you be respectful of Seneca Hill Private School as a learning environment and therefore anything overtly distracting or hazardous to the educational and developmental goals of the school is not permitted. This includes any pieces of clothing that present a safety hazard to the student or their peers, overtly revealing (no underwear showing, no midriff or chest showing), discriminatory or attire that otherwise demeans an identifiable individual or group.

No racist, derogatory, sexist or profane language on clothing is allowed.

We retain the right to send students home or require them to alter their clothing to uphold the educational goals of the school.

On your birthday, your whole class gets to wear casual clothes! 
How to Shop for your Uniform
Visit InSchoolwear.com and register or log into your account to begin shopping.

Seneca Hill Private School's unique online code is: sehc 
New students must register online and can book an in-store appointment for accurate sizing.

Returning students can shop online at InSchoolwear.com for all uniform requirements.

Our uniform supplier is
InSchoolWear
, which is conveniently located a short distance from our campus at:
209 Wicksteed Avenue
Unit #22, 23, 24 Toronto, ON M4G 0B1
(T) 416.423.3032
[email protected]
www.inschoolwear.com